This Must Be the Place
is Italian director Paolo Sorrentino's first English language film and it certainly does not disappoint. A little slow-moving but never dull, this comedy drama is a highly amusing and watchable film, featuring another spot-on performance from method actor Sean Penn.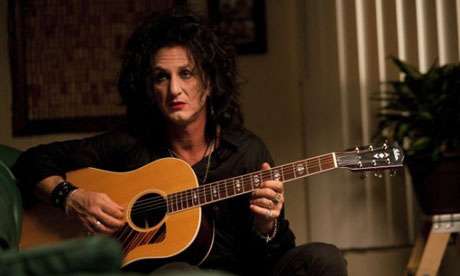 Penn plays Cheyenne, a washed-up Goth rocker living in his Dublin mansion with Jane, his cheerful and understanding wife of thirty-five years (Frances McDormand). Having given up music twenty years previously due to the suicide of two young fans inspired by his songs, Cheyenne now spends his days shuffling around Dublin, doing the odd bit of shopping, hanging out with teenage fan Mary (played by a gothed-up Eve Hewson, daughter of U2 singer Bono), and avoiding the overtures of local bands who vie for his attention.
Despite his happy marriage and lazy life, Cheyenne is still deeply troubled and is in the throes of a possible mid-life crisis. Everything suddenly changes when his father dies. Cheyenne heads back to New York for the funeral of a man he hasn't spoken to in thirty years, only to discover that his father had become obsessed with hunting down Aloise Lange, a Nazi war criminal who persecuted him in Auschwitz. Cheyenne takes up the hunt for Lange, embarking on a road trip with a difference to try to discover the last hiding place of the man his father hated so much...
Head over to
Movie Farm
for the rest of the review...