Everybody loves trains - well, not these days perhaps. These days, they're mostly just great metal tubes full of sweaty kindle-readers, crumpled Metros and the odd pool of fresh (or not so fresh) vomit. But, in the good old days, they were truly the transport of kings. Here are ten of the best. Or at least, ten of the best films that have trains in them.
10. The Great Train Robbery (1903)
From the famous Edison Manufacturing Company,
The Great Train Robbery
is one of the earliest surviving examples of American cinema (the original camera negative is held by the Library of Congress, and new prints can still be made from it). It's just over ten minutes long, and tells the story of a group of cowboy gangsters who hold up a train and rob the passengers. Some scenes include colour; the tints were painted onto the film by hand.
9. Arrival of a Train at La Ciotat (1896)
Lumiere's
Arrival
is so famous that even people with no interest in film history whatsoever are likely to have seen it, or at least have heard about it. The film runs for just under a minute, and shows the arrival of a train at a station where a line of people wait to greet it. The famous story about the first screenings of this film (that some audience members ran out of the theatre for fear they would be crushed by the oncoming locomotive) is certainly exaggerated. However, a quotation from July 14th 1896 in the French newspaper Le Courier du Centre reads "...spectators draw back instinctively fearing they'd be run over by the steel monster."
8. In the Heat of the Night (1967)
They call him Mr Tibbs. While waiting to train it out of Sparta, Mississippi, police detective Virgil Tibbs (Sidney Poitier) falls afoul of the local police force. Once they realise who he is, the racist cops reluctantly ask for his help in solving a local murder. The tension boils over in this brilliant and racially explosive film
7. The Third Man (1949)
Holly Martins (Joseph Cotten) arrives in Vienna on a train as the nameless narrator (who never shows up again) babbles on about Vienna:
I never knew the old Vienna before the war with its Strauss music, its glamour and easy charm. Constantinople suited me better. I really got to know it in the classic period of the black market. We'd run anything if people wanted it enough and had the money to pay. Of course, a situation like that does tempt amateurs. But, well, you know, thay can't stay the course like a professional. Now the city is divided into four zones, you know, each occupied by a power: the American, the British, the Russian and the French. But the centre of the city, that's international, policed by an international patrol. One member of each of the four powers. Wonderful! What a hope they had. All strangers to the place and none of them could speak the same language. Except a sort of smattering of German. Good fellows on the whole, did their best you know. Vienna doesn't look a whole lot worse than a lot of other European cities; bombed about a bit. Oh, I was going to tell you, wait, I was going to tell you about Holly Martins, an American. Came all the way here to visit a friend of his. The name was Lime, Harry Lime. Now Martins was broke and Lime had offered him some sort, I don't know, some sort of job. Anyway, there he was poor chap, happy as a lark and without a cent.
6. Strangers on a Train (1951)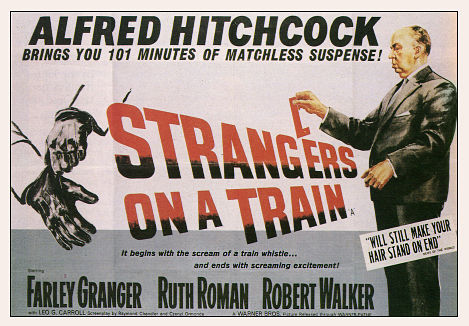 In Hitchcock's suspenseful tale, two men meet on a train and make a pact; they will each murder the other's wife, figuring that since motive can't be proved, they will both be able to get off scott free. In the opening of the film, the camera follows only the feet of the two men as they get onto a train, cutting to a tracking shot of the track (ha) until the two pairs of feet finally collide.
5. Brief Encounter (1945)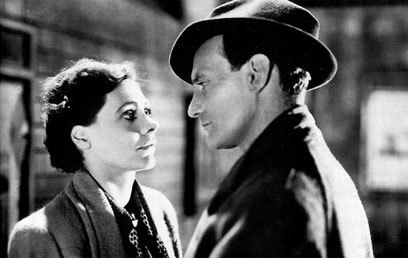 Celia Johnson and Trevor Howard are tempted to cheat on their spouses when they run into each other at a train station. They continue to meet each other every thursday at the station cafe, even though they know their romance is doomed. Trains and stations feature heavily in this tense and tragic film, places filled with guilt and separation.
4. Cabaret (1972)
Brian (Michael York) arrives in Berlin on a train, he and Sally (Liza Minnelli) like to spend their free time standing underneath a railway bridge and screaming at the top of their lungs every time a train goes by, and Brian later leaves Berlin by train - but, other than that, trains don't feature too heavily in this lively musical, made in 1972 but set in Weimar Germany. If you like Otto Dix, turquoise nail varnish, prairie oysters, intra-war malaise, a good portion of campy singing and dancing, and the odd sprinkling of Nazis, then this is the film for you.
3. Once Upon a Time in the West (1968)
Come on, we all remember
Once Upon a Time in the West
and its incredible opening sequence. If you don't, I'd suggest watching the above video - there's no proper way to explain it in words.
2. Double Indemnity (1944)
Walter Neff (Fred McMurray) is an insurance salesman who becomes entangled with the married, blonde and dangerous femme fatale Phyllis Dietrichson (Barbara Stanwyck). The two plot to murder Phyllis' husband and then make it look like an accident by throwing him off the back of a train. Needless to say, their plan begins to go wrong, and Walter's boss Barton Keyes (Edward G Robinson) starts to smell a rat...
Oh yes I did. Number one, it has to be: The Railway Children. The Waterbury family are forced to move to a small cottage in Oakworth after their father is arrested and falsely imprisoned for treason. Needless to say, at the end of the film the whole mess is sorted out, and Roberta meets her father at the station following his release. If you can watch the above scene and not well up, you have no place on this planet.